We had the pleasure of delving into the world of Mariam Abdelghany, an Egyptian fashion designer and the visionary force behind Mamzi and Atelier Mamzi. Her exceptional talent has adorned the curves of renowned celebrities like Donia Samir Ghanem and Passant Shawky. Yet, the path that led her to fashion was serendipitous, woven by the threads of fate. As a young girl, she would dress her dolls, fashioning outfits from old t-shirt cutouts but it wasn't until an unexpected encounter with a fashion course at a university in Egypt that Abdelghany discovered her true calling has always been fashion.
Abdelghany holds a firm belief that Egypt has long been a fertile ground for international fashion brands to produce garments of extraordinary allure. "Recently," she asserts, "we have witnessed an abundance of emerging fashion brands in Egypt that possess inherent creativity capable of showcasing our nation. However, what we truly lack are Egyptian brands poised to make a resounding impact on the global stage."
With a commitment to breathing life into stories through wearable art, she envisions crafting distinctive garments that transcend the realm of fashion and become an extension of one's identity. The hallmark of Mamzi's collections lies in the tales spun by the intricate details adorning each piece, inspired by her life experiences. Abdelghany's designs are marketed to bold, assertive women, those unafraid to stand out.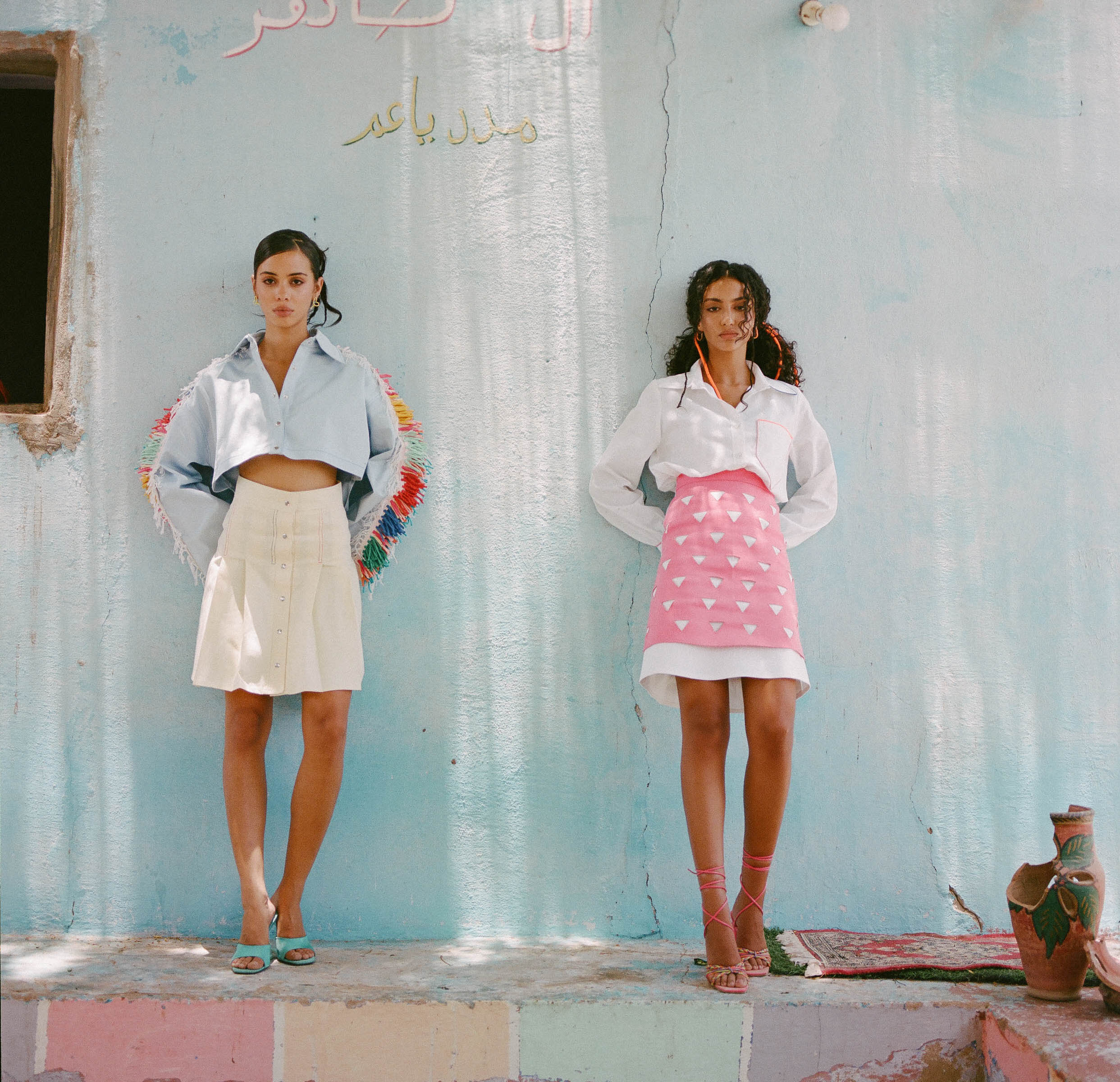 Among her most recent endeavors, one holds a special place in Abdelghany's heart, for it draws inspiration from the enchanting culture of Nubia, Aswan. A profound connection to Aswan and its people has coursed through her veins since her first visit nine years ago. Ever since that transformative encounter, she has dreamt of creating a collection that pays homage to Aswan. "During my time there," she reminisces, "I had the privilege of meeting Aswani women, who exquisitely craft handwork in their homes. I wanted to intertwine my designs with their extraordinary embroidery techniques." It was crucial for Abdelghany that the people of Aswan became an integral part of her collection, for they are the true embodiment of Aswan's beauty.
Before embarking on the journey of establishing a brand, Abdelghany emphasizes the significance of acquiring industry experience, conducting thorough research, and knowing what the market lacks to be able to offer something different. She empathizes with the struggles aspiring designers face when attempting to launch their businesses, as most factories solely cater to large-scale production. Yet, she advises young designers to start anywhere, even if they lack the conventional tools to aid them. Eventually, passion and determination will guide them toward the solutions they seek. As Abdelghany looks to the future, her desire remains steadfast, to continue weaving stories through her original designs and witness her brand flourish.
WE SAID THIS: Don't Miss…Stripping Down The Hijab Stigma: Mai Yackout's Journey In The Modeling World