From exercising to eating healthy, there's a lot to do when thinking about maintaining a better lifestyle. To get a better idea of these elements, we exclusively spoke to Fatma Moemen who told us about her journey to becoming the health and fitness expert that she is today.
Hailing from a long line of architects, Moemen's day job is in an urban planning firm in Egypt with a branch in Rwanda; yet her career shift into nutrition and fitness was born out of adversity and resilience to the hardships that she encountered on her path to getting better.
Her story as a fitness coach started with a simple skin rash caused by a virus uncommon in adults. Her health-conscious mother convinced her to treat herself to healthy eating and enlist the help of a Chinese Homeopathy expert.
For a year, sugar, meats, and fats were banned from her diet, and she augmented it with miso or seaweed to change her body PH to Alkaline so as to make her body inhospitable to the virus.
This year of recovery ignited her quest to live as healthy as possible and that required true discipline as she changed her habits and cut much of the unhealthy aspects out of her meals.
As she was brought up on home-cooked meals, her fast-food cravings were not that strong to begin with but the same cannot be said of her love for sweet treats.
"The problem was that if I'd break my habits just once, I would go back all the way to square one so it was important that I stay dedicated and consistent to get the results," shared Moemen. As her life changed, she started training alone then an invitation from her cousin to a boxing class which began her passion for sports, despite a bit of a rough start.
"Yassin my coach suggested that I should mix boxing with some weight lifting, I was saying what all girls say that I didn't want to get bigger or this is too masculine for me, but I gave it a chance, combining boxing, weightlifting and calisthenics and they became my passion."
"My initial motivation to play sport was about getting into shape and looking good, but with time it wasn't just about the appearance I wanted to get even better and stronger, proving to myself that I can achieve something big on my own."
Fatma said that even during heartbreak sports became her therapy, lowering her strength and anxiety, making her more confident and resilient.
All was going well until Covid came. While everyone had a rough time of it, so did Fatma at the beginning, being stuck at home away from the gym, but that led her on a trip of self-discovery. After making "poor man's dumbbells" (dispenser bottles hanging off broomsticks) she started buying equipment and planning her own routines and her friends even encouraged her to become a trainer.
"I knew I wasn't ready then, my personal philosophy when it comes to helping people was to give advice gained by firsthand knowledge, experiencing every kind of diet as I did, which gave me a sense of what to expect to guide the people applying it."
Also getting the theory through certification from professionals led her to do an EPI National Certificate in Strength & Conditioning (NCSC) course that pushed her to the limits, overcoming the final exam which was lifting a weight that her instructor didn't believe was possible in such short notice.
"I had to reach the target in 2 months, I was even practicing throughout Ramadan spending all day at the gym breaking my fast in between reps," she recounted.     
Moemen surprised everyone by passing with flying colors to the great admiration of her coach. Things were going well as she was also getting married but an ankle injury forced her to stop training. Another minor recovery journey was underway as she was adamant to wear heels on her special night and she was successful yet again but a tougher injury was just a month away.
This experience changed her message stating that girls can become skilled weightlifters but personally in the long run the damage it can cause to the female frame is not worth it.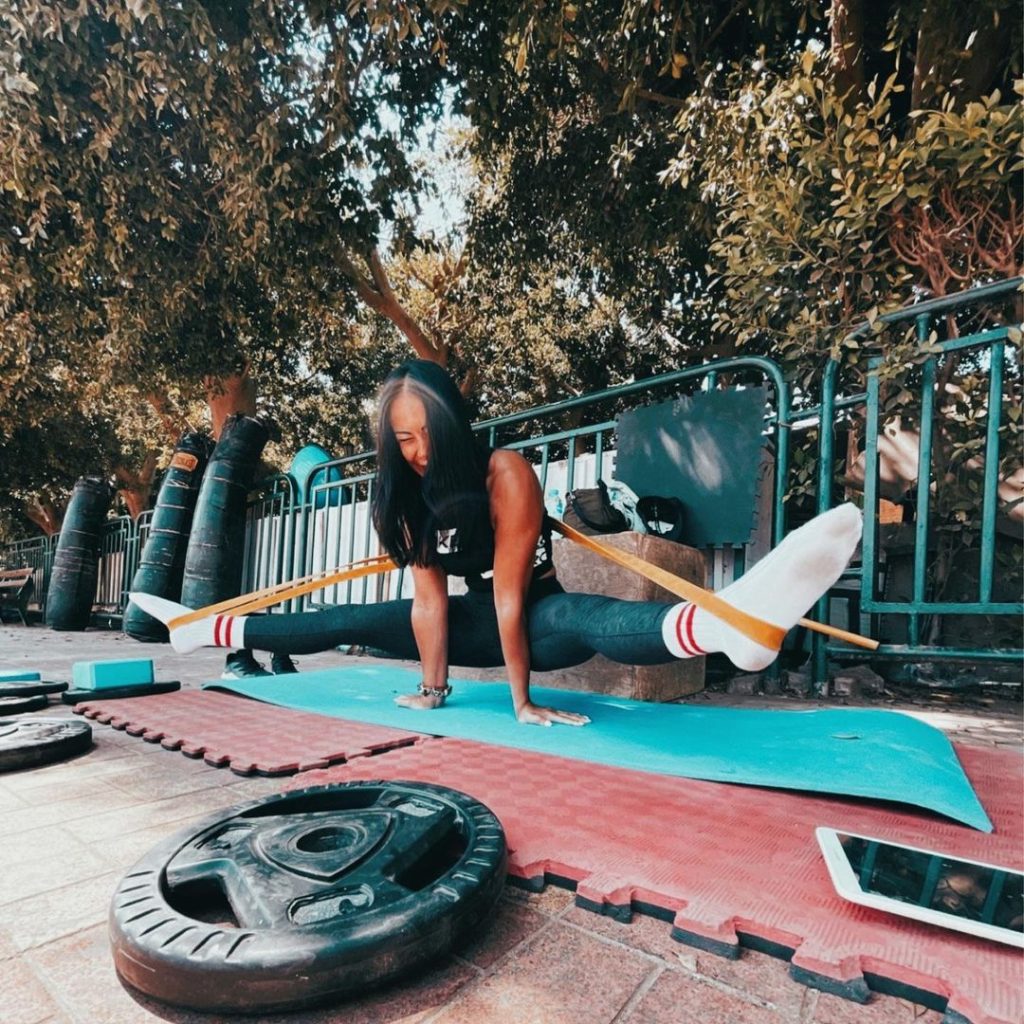 After years of dieting and training, she gave us some useful advice about how to start taking care of your health.
If people are too busy to exercise then eating healthy should become the priority along with hydration and good sleep of course.
"Sugar is like drugs; can I say that? It's actually worse, it ruins your life because of the harm it does to your body," she advises people to simply start by cutting down the number of sugar spoons in your coffee, there are always alternatives like eating dark chocolate instead of regular.
Consistency is also key; many people get excited in the beginning when they go to exercise only to get busy and stop altogether.
Focusing on your objective is essential, writing down your goals even though it doesn't seem like much, affirms your target, and start small like sleeping earlier, eating better.
Finally, Fatma advises that "at the end of everyday everyone should reflect on what happened and comfort yourself and invest in your wellbeing, because if you aren't well how can you give back to your family and kids for instance? Step by step is the way to go."      
WE SAID THIS: Don't Miss…Meet Cavio; The Athlete Behind One Of Egypt's Biggest Fitness Hubs